Smartsettle Infinity runs on all the Windows operating systems. Windows 7 was one of the best. Mac users can run Smartsettle using Boot Camp, Parallels or VMware. Smartsettle ONE requires no download.
BY DOWNLOADING THE SMARTSETTLE INFINITY CLIENT, YOU ARE OBTAINING SOFTWARE THAT IMPLEMENTS STRONG CRYPTOGRAPHIC FUNCTIONALITY THAT MAY BE CONTROLLED AND/OR REGULATED BY LAWS IN YOUR COUNTRY. YOU HEREBY CLAIM TO UNDERSTAND YOUR LEGAL OBLIGATION IN THIS REGARD AND ASSUME RESPONSIBILITY FOR THE VIOLATION OF ANY LAWS THAT GOVERN THE IMPORT/EXPORT AND/OR USE OF THE SOFTWARE IN YOUR COUNTRY.
See < http://www.wassenaar.org/> for more information.
Installation Instructions
See the illustration below for screen that you may encounter on Windows 10. You may need to install as administrator and run as administrator every time. After installation, find the shortcut and turn on "Run as administrator" under advanced properties.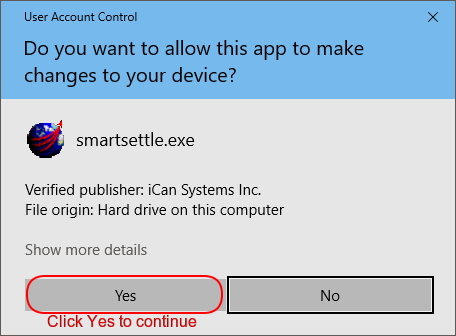 Smartsettle must be installed with administrator privileges. After downloading the setup file, right-click on it and choose "Run as administrator".  The setup process will present you with the following instructions: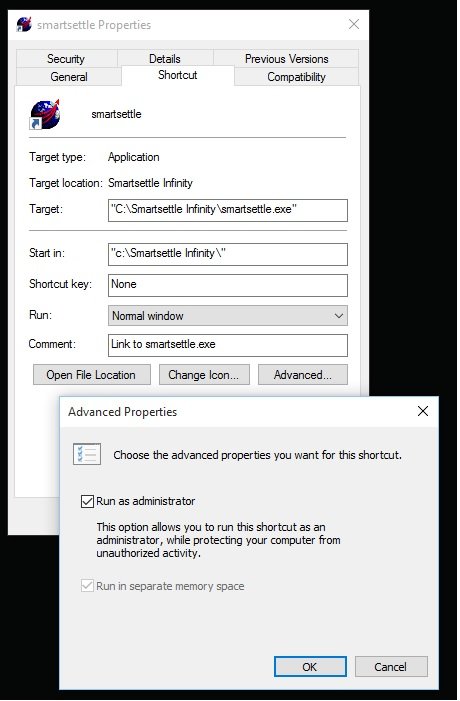 You will need to run Smartsettle as administrator at least the first time you go online in order to unblock the encryption routines and possibly every time, depending on your system configuration. To automate this, right-click on the shortcut for smartsettle.exe and then click Properties. In the Properties dialog box click the Shortcut tab and then Advanced. Then you can set "Run as administrator" as shown in the screen shot shown here.
If you are not installing as administrator and you have Data Execution Prevention (DEP) enabled, Smartsettle will not run until you set smartsettle.exe as an exception. This is an advanced performance setting under system properties. Instructions are here.
For best results do not install in "Program Files". Specify a path like "c:\Smartsettle Infinity".
If the system complains about access to c:\Windows\temp then you may need to manually go to that location to establish access.
After installation, read the setup and update instructions.
Unless you have also purchased a key, your installation will default to the Observer (Lite) edition. After you've taken Smartsettle Observer for a test drive you will be better able to choose the Smartsettle edition that's best for you. Simply adding the appropriate key will upgrade your installation.
Problems?
Some browsers may have trouble downloading executable files. You might solve this by trying a different browser such as Chrome or Firefox.
If all else fails, please contact support for assistance.
Warning about Security Add-On
All Smartsettle setups now include the security add-on by default.
This is an OpenSLL Cryptographic Add-on providing 168-bit encryption (stronger grade than some banks) that can make it extremely difficult for a snooper to decipher information transmitted between your client and the Smartsettle neutral site server.  OpenSSL is strong cryptography software created, maintained and distributed from liberal countries in Europe (where it is legal to do this).  Please note, however, that this product may fall under certain export/import and/or use restrictions in some other parts of the world.
PLEASE REMEMBER THAT EXPORT/IMPORT AND/OR USE OF STRONG CRYPTOGRAPHY SOFTWARE, PROVIDING CRYPTOGRAPHY HOOKS OR EVEN JUST COMMUNICATING TECHNICAL DETAILS ABOUT CRYPTOGRAPHY SOFTWARE. IS ILLEGAL IN SOME PARTS OF THE WORLD. SO, WHEN YOU IMPORT THIS PACKAGE TO YOUR COUNTRY, RE-DISTRIBUTE IT FROM THERE OR EVEN JUST EMAIL TECHNICAL SUGGESTIONS OR EVEN SOURCE PATCHES TO THE AUTHOR OR OTHER PEOPLE YOU ARE STRONGLY ADVISED TO PAY CLOSE ATTENTION TO ANY EXPORT/IMPORT AND/OR USE LAWS THAT APPLY TO YOU. THE AUTHORS OF THIS SOFTWARE ARE NOT LIABLE FOR ANY VIOLATIONS YOU MAKE HERE. SO BE CAREFUL; IT IS YOUR RESPONSIBILITY.
CREDIT INFORMATION: This product includes cryptographic software written by Eric A. Young (eay@cryptsoft.com). This product includes software written by Tim J. Hudson (tjh@cryptsoft.com).
[caldera_form id="CF5d1bcbff0c0b2"]